UNARMED - Songs from the Poetry of Karin Boye • Camilla Åström & Petra Haraldson
KAKADA004 • RELEASE 2023-01-27
Meet Karin Boye and her poetry on the English edition of Unarmed. Carefully translated by Linda Schenk and with heartfelt and precise musical interpretations by Camilla Åström & Petra Haraldson.

Camilla Åström and Petra Haraldson have been inspired by Boye and her singular talent for expressing thoughts and emotions ever since they were young teens. Their interest in her art brought them together a decade ago, and ever since they have followed in Karin's footsteps, composing music and touring with their project Vapenlös. Their debut album was released in 2020 as a tribute to the 120 th anniversary of Boye's birth. And now the poems on the album have been translated by Linda Schenck, giving them and the songs a much bigger world in which to fly.

Karin Boye was active as a writer and poet in the 20 th century, during the period of both World Wars. She was a woman of faith, political, and a seeker, but most importantly she was also a rebel at a time when such convictions went unacknowledged. Boye's poetry often addresses existential questions about the human condition. They are poems of amazement, fear, longing, courage, and defiance. Timeless in their melancholy, their passion, and their aspirations.

Camilla Åström is an accordionist, singer and composer with roots in northern Sweden, currently based Gothenburg. More about Camilla: www.camillaastrom.se

Petra Haraldson is a solo artist, singer-songwriter, and pianist with roots in southern Sweden, currently based on an island off Gothenburg. More about Petra: www.petraharaldson.se

Musicians on the album
Camilla Åström - Vocal, accordion, piano (track 6), composition
Petra Haraldson - Vocal, piano, composition
Sofia Högstadius - Violin, viola
Anna Malmström - Clarinet, bass clarinet
Maria Skanselid - Cello
Johan Bengtsson - Double bass
Malin Almgren - Drums

Poetry Karin Boye, translated by Linda Schenck
Music: Camilla Åström & Petra Haraldson
Producers and arrangements: Camilla Åström & Petra Haraldson
Co-arrangers: Musicians on the album
Voice recording: Gustav Davidsson, Studio Glasfågeln, June 2022
Recording: Pedro Ferreira, Spinroad Recording Studios, November 2018 and
Johannes Lundberg, Studio Epidemin Jan/Feb 2022
Mixing: Gustav Davidsson, Studio Glasfågeln, September 2022
Mastering: Johannes Lundberg, Studio Epidemin, September 2022
Photo: Peter Lloyd
Art work/cover art: Cecilia Bergman, Leomini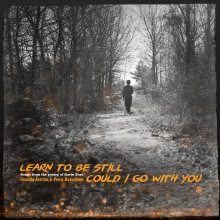 DUBBELSINGEL!
CAMILLA ÅSTRÖM & PETRA HARALDSON
•
LEARN TO BE STILL + COULD I GO TO YOU
På Karins 120-årsdag släppte Camilla och Petra det hyllade albumet
Vapenlös
där deras tonsättningar fick klä och tolka utvalda dikter av Karin Boye. Nu har
Vapenlös
fått ny språklig skrud i Linda Schenks engelska översättningar av dikterna. Tonsättningarna och orden har fått en större värld att flyga fritt i. Inför releasen av albumet som släpps den 26/10 släpps nu singeln med tonsättningarna
Learn to be still
och
Could I go with you
. Release 5/10!
STREAMA/KÖP • PRESSIDA
Release 2023-01-13